Our Mission
This online space was originally created to be a nexus point for new, exciting, dynamic, and purposeful clairvoyant schools, teachers, events, and classes. We support group agreements, and communities, that have a strong commitment to social amiability, personal openness, and financial & organizational transparency. And most importantly, we support those groups that have a high level of enthusiasm, creativity, and originality. If you are a teacher or an individual and this kind of vision excites you then we invite you to come work with us. We are excited to help blossom the next joyous wave of clairvoyants across the globe.
The classes and events featured on this site are held online via Skype, which can be downloaded here.
Our Teachers & Staff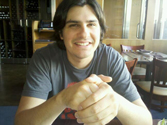 Josh is a Certified Hypnotherapist and has trained at the world famous Hypnotherpy Training Insitute in Corte Madera. He has taken NLP training and he has also studied in the Healing Touch Program. But the core of Josh's experience comes from the two years he spent with more than 50 psychics — during that time he was immersed in energy work, readings, and healings. It was intense, but it was also the experience of a lifetime. He was able to learn from top Bay Area psychics and is grateful to be able to call them his friends and have them as part of his professional and social networks.
Our Values
Teach freedom
You have all your own answers
The student may be more capable than the teacher
Look at it clairvoyantly
Create something new, do it your own way.
Laugh
Remember your heart
Questions for you and us: What makes a successful spiritual and psychic community? How can we work our karma together and grow together at the highest common denominator? How much permission do you have, as a student, to vibrate at a higher place than your teachers? How much enthusiasm do your teachers have for giving away their spiritual knowledge? Are they teaching freedom? How encouraging are they of you learning outside their particular discipline or school? How much do they encourage you to write their teachings down on paper? Do they proclaim to have your answer? Where does the organization or people you are involved with vibrate at? Who has the biggest crown chakra? Who sets the energy and decides what is permissible? How open is the organization to outsiders, novelty, and change? How flexible are they?
The concept of evolving a clairvoyant landscape upon the world, in a safe space, is something many of us are working toward in our own ways. We all want to create in alignment with what, and who, we are in agreement to. How do we see the larger clairvoyant landscape changing? As it changes are we growing with it? Are our efforts adaptable? These are a few of questions we ask as teachers. It is our commitment to promote growth and change and to connect others in a spirit of joy so that we may all flourish.